Indications

loss of control of the ankle dorsiflexors during swing phase and during loading response (heelstrike / foot flat), possibly with ankle instability



disorders possibly involving loss of the function of the ankle dorsiflexors are: CVA, hernia, multiple sclerosis, post-polio syndrome, muscular dystrophy, spinal cord injury, polyneuropathy

Contra-indications

loss or lack of control of the calf muscles, moderate to severe spasticity, extreme pes equinus, foot deformity

Mode of action
The Push ortho Ankle Foot Orthosis lifts the foot during the swing phase, controls the plantar flexion after heel strike and then allows unimpeded rolling of the foot. In addition, the orthosis offers lateral stability to the ankle joint.
The elastic straps of the Push AFO are adjustable. This allows the degree of dynamic foot lift during the swing phase to be determined according to the individual needs of the user. On heel strike, the restraining function of the elastic straps ensures a well-controlled plantar flexion. During stance phase, the Push AFO allows flexion and extension in the ankle joint and allows the (remaining) function of the calf muscles to be addressed during the rolling of the foot. The result is an efficient and natural gait.
Where normally the shoe allows for fixation of the orthosis around the foot, the Push AFO has its own fixing strap system. This innovative construction allows the Push AFO to be used with light footwear such as indoors in slippers.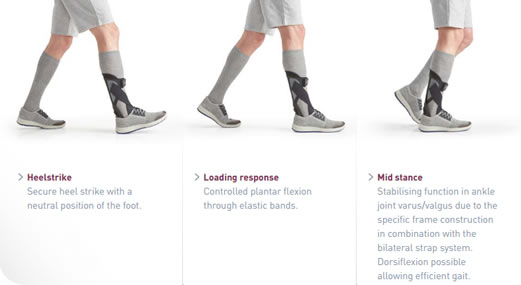 Features
| | | |
| --- | --- | --- |
| | | |
| non-elastic Dyneema® Strap System fixes the foot in the orthosis and counteracts inversion and eversion | | elastic straps control flexion after heel strike and ensure a neutral foot position during swing phase |

softshell frame provides comfort and good distribution of pressure



lightweight, glass fibre reinforced frame provides lateral stability to the ankle joint



flexible sole enables rolling of the forefoot

Sizing Chart
| | | | | |
| --- | --- | --- | --- | --- |
| Size | | Circumference (cm) | | Shoe size (EUR) |
| | | | | |
| 1 | | 27 - 31 | | 36 - 41 |
| | | | | |
| 2 | | 31 - 34 | | 39 - 44 |
| | | | | |
| 3 | | 34 - 40 | | 42 - 47 |

* sized by EURO shoe size
Available in left or right configuration

Product Enquiry
Integratif Medical


114 Lavender Street,
#03-80 CT Hub 2,
Singapore 338729
Tel: 6224-8468

Integratif @ Changi General Hospital - Pharmacy B


2 Simei Street 3, Ward Lobby, Level 1
(near Subway outlet)


Singapore 529889


Tel: 6785-5572