Indications

patients diagnosed with moderate to severe medial or lateral compartment OA


patients who have unicompartment OA combined with knee instability


patients who have unicompartment OA and significant soft tissue (obesity)

Features

custom molded laminated carbon graphite shells



patented Townsend Motion TM5+ hinges



extension stop kit



patented synergistic suspension strap



anti-migration strap padding



anti-rotation tibial shell bolster (Reliever Air)



patented loadshifter - The Reliever Air and Reliever Air Lite feature Townsend's patent
Loadshifter for adjusting the angle of the thigh shell to increase the base level of corrective force built into the brace.
Models

Reliever Air - The Reliever Air is a traditional full shell design that provides maximum unloading, soft tissue containment and support for ligament instabilities.

Reliever Air Lite - The Lite model features an adjustable anterior tibia strap and modified
trim lines that reduce the weight of the brace.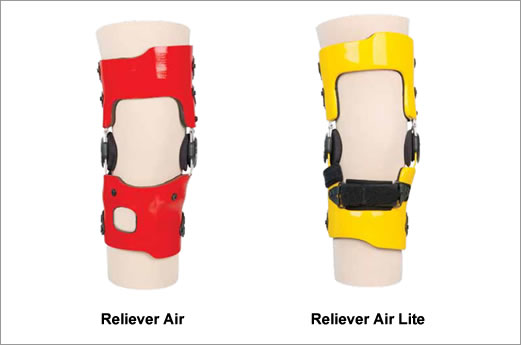 Custom Options

virtually any shell length over 13 inches


hinge material -- 6061 aluminum or titanium or stainless steel


extension assist


full figure model for soft tissue containment


Spooner patella stabilising attachment


flexion stop kit


a variety of colours or fabric inlay

Product Enquiry
Integratif Medical


114 Lavender Street,
#03-80 CT Hub 2,
Singapore 338729
Tel: 6224-8468