The lightweight, low profile carbon graphite custom Premier Series OA knee braces are Townsend's most popular models for unloading and pain relief. The Premier Reliever is a double upright brace that includes Townsend's patented LoadShifter Relief Mechanism for shifting the femoral shell to increase corrective force.

Indications

patients diagnosed with mild to severe medial or lateral compartment OA


patients who have moderate to severe medial or lateral unicompartment osteoarthritis


double upright model is recommended for combination OA and ligament instability


single hinge PR1 is ideal for lateral OA
Features

custom molded solid core carbon graphite shells


patented Townsend Motion TM5+ hinges (double upright)


patented Townsend Motion TM6+ hinges (single upright)


extension stop kit


patented synergistic suspension strap


anti-migration strap padding


rotation control tibial shell contour


high gloss paint or powdercoat finish


patented Loadshifter for adjusting the angle of the thigh shell to increase the base correction built into the brace (double upright)


an adjustable force buttress that allows the patient to optimize counter force pressure (single upright)

Models

Premier Reliever (double upright) - features a lightweight, low profile design that
provides comfortable unloading and pain relief.

Premier Reliever 1 (single upright) - The new PR1 is a single upright model that is ideal for lateral OA (no medial hinge) and patients who prefer an ultra light weight brace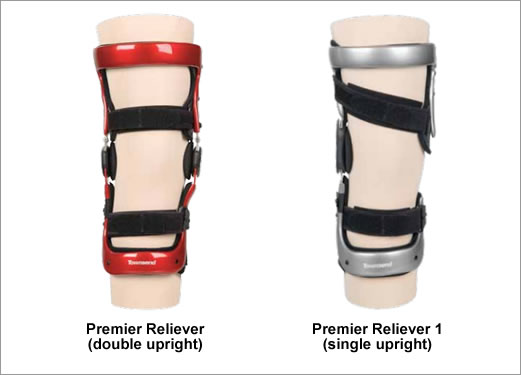 Options

ACL or combined Instabilities


13, 14, 15 And 16 Inch Shell Length


hinge material -- 6061 aluminum or titanium or stainless steel


extension assist (double upright)


compression / suspension package


spooner patella stabilising attachment


flexion stop kit


a variety of colours

Where to order
Orthogait Scoliosis & Limbs Centre


10 Sinaran Drive #11-24
Novena Medical Centre
Singapore 307506
Tel: 6250-1566